West Central Indiana
Educational

Service

Center
Hey, K-12 Indiana Educators!



Show them you're worth the investment by participating in FREE workshops on integrating computer science principles into the classroom. Grant was written by a former K-12 educator with current K-12 educators in mind. Sign-up to attend one or all the 14 workshops being offered. We have over 200+ seats – let's fill them up and prove that we're a great return on investment.



Priority goes to those WCIESC Members who s

ign up by May 1, 2023





PRISM Project at Rose-Hulman


Computer Science Workshops Available
Beginning with Bootcamp options in July wrapping up with Final workshop in November 2023
​
Location: Rose Hulman Campus

Intended Audience: All Indiana K-12 teachers interested integrating computer science principles into their own classrooms

For more information about specific workshops and registration links select from individual dates on workshop page.

An Educational Service Center is an agency authorized by State statute to operate under the guidelines of the State Board of Education. The Service Center must allow every school corporation in its service area an opportunity to participate. The Service Center is governed by the participating school corporations. The WCIESC initially started in 1985 and currently serves sixteen school corporations.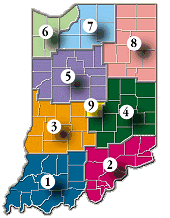 Indiana Educational Service Centers
​
2022-23 Executive Board Meetings
July 28,2022 (Emailed)
August 25, 2022 (In Person)
September 28,2022 (Emailed)
October 26, 2022 (In Person)
November 16, 2022(Emailed)
December 14, 2022 (In Person)
January 25 2023 (Emailed)
February 22, 2023 (In Person)
March 29, 2023 (Emailed)
April 26, 2023 (In Person)
May 10, 2023 (With Governing Board)
June 28, 2023 (Emailed)