West Central Indiana
Educational

Service

Center
OPEN PART TIME POSITION:
Part-Time Administrative Assistant/Deputy Treasurer
​
PURPOSE:
​
:
We are hiring! This employee is directly responsible to the Executive Director. Expected working hours are Tuesday thru Friday 8:00 am to 4:00 pm with some degree of flexibility available. This is a position that will not exceed 200 working days per year. The salary will be an hourly rate to be determined by the experience, skills, education, and training of the candidate. Office location is in Greencastle.
Send resume no later than June 3rd to
or WCIESC, 1 N Calbert Way Suite D, Greencastle, IN 46135
An Educational Service Center is an agency authorized by State statute to operate under the guidelines of the State Board of Education. The Service Center must allow every school corporation in its service area an opportunity to participate. The Service Center is governed by the participating school corporations. The WCIESC initially started in 1985 and currently serves sixteen school corporations.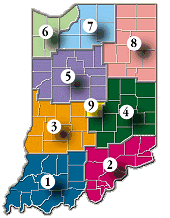 Indiana Educational Service Centers
​
2021-22 Executive Board Meetings
July 27,2021 (In Person)
August 25, 2021 (Emailed)
September 29,2021 (In Person)
October 27, 2021 (Emailed)
November 17, 2021(In Person)
December 15, 2021 (Emailed)
January 26 2022 (Emailed)
February 23, 2022 (In Person)
March 30, 2022 (Emailed)
April 27, 2022 (In Person)
May 11, 2022 (With Governing Board)
June 29, 2022 (Emailed)