West Central Indiana
Educational

Service

Center
Every day, educators across the nation are charged with changing the world in their communities
through their education programs. In Indiana, Dr. Larry Gambaiani made a significant impact for
thousands of students, educators, and communities over his career that spanned 55 years.Larry's impact lives on through his students, educators, and the legacy of his administrative leadership.
An Educational Service Center is an agency authorized by State statute to operate under the guidelines of the State Board of Education. The Service Center must allow every school corporation in its service area an opportunity to participate. The Service Center is governed by the participating school corporations. The WCIESC initially started in 1985 and currently serves sixteen school corporations.

Board of Directors
​
​
​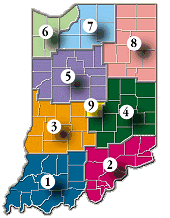 Indiana Educational Service Centers
​
2021-22 Executive Board Meetings
July 27,2020 (In Person)
August 26,2020 (Emailed)
September 23,2020 (In Person)
October 28,2020 (Emailed)
November 18, 2020 (In Person)
December 16, 2020 (Emailed)
January 27 2021 (Emailed)
February 24, 2021 (In Person)
March 31, 2021 (Emailed)
April 28, 2021 (In Person)
May 12, 2021 (With Governing Board)
June 23, 2021 (Emailed)